What types of watercraft are covered by boat insurance?
Any and all boats can be covered under a boat insurance policy. However, due to the wide array of watercraft uses, providing coverage for some specific risks may be more challenging. Below is a list of different watercrafts:
Fishing Boats small boats meant to be pulled in a trailer behind a vehicle and used for fishing purposes.
Power Boats vary in size, typically used for riding around & watersports. Mainly outboard, these boats are used for enjoying a day on the water.
Sailboats vessels powered by the wind. The boats can be used for the day or be used as liveaboard vessels.
Personal Watercraft typically small watercraft or toys such as jet skis & waverunners. .
Pontoon Boat a flat boat with a wide deck and two hulls used to stay afloat.
House Boats typically meant as a liveaboard vessel that remains stationary but can be moved from place to place.
Get A Quote
What does boat insurance cover?
Boat insurance will provide liability coverage as well as hull coverage (coverage for the vessel itself) and medical payments. Additionally on-water towing options are available with most companies in the case you break down at sea. Uninsured boater coverage will provide protection in the event a loss arises out of an accident with someone who does not carry insurance.
Before getting boat insurance, speaking with an insurance advisor can prove valuable.
Get A Quote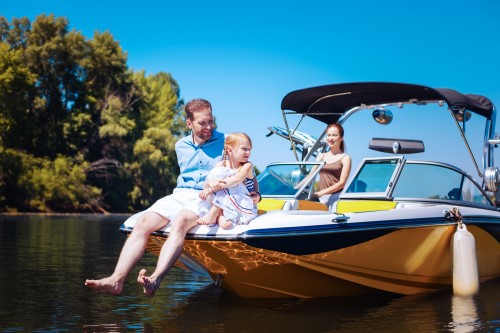 How Much Does Boat Insurance Cost?
Boat Insurance costs can vary widely depending on the size, usage, and boating experience the applicant has. For example, a small fishing boat will cost much less to insure compared to a high-powered speed boat used for racing.
As an additional note, when applying for boat insurance it is highly important to have your boater's license as well as a marine survey completed within the last three years.
Is Boat Insurance Required in NJ?
The State of New Jersey does not require boat insurance under any law. However, it is still not smart to go without this coverage. Operation of a vessel opens the door to an array of exposures you will want to be covered for. A boat is oftimes a significant investment for someone. Make sure you and your vessel are well protected by insuring it today.
Get A Quote